CURRENTS. A Journal of Young English Philology Thought and Review
vol. 1, no. 1 /2015
Edited by Ewa Bodal, Anna Jaskólska, Nelly Strehlau and Monika Włudzik
ISSN 2449-8769
All texts licensed under: CC BY-NC-ND 3.0.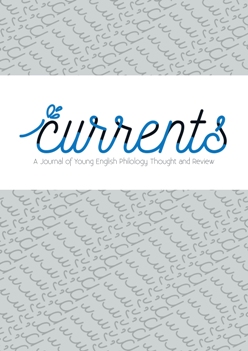 (designed by Zuzanna Larysz / 007fff)
COMPLETE ISSUE - pdf (2.29 MB)
Files with individual articles available below. Please click any title to view the article:
CURRENTS IN CULTURE:
'"Man is something that should be overcome": Self-Fashioning versus Self-Overcoming of Shakespearean Over-Reachers as Seen through the Lens of Friedrich Nietzsche's Philosophy' - Katarzyna Burzyńska
'Presentation of the Middle Eastern Conflicts in Modern British Drama' - Monika Sarul
'Found Footage Film: When, Why and How?' - Agnieszka Brodzik
'Film Remakes: Parasites and Cinematic Trash? Film Remake Theory and Contemporary Hollywood Cinema' - Monika Pasek
CURRENTS IN LANGUAGE:
'Impoliteness in Relation to Humour: The Influence of Humorous Utterances on Impoliteness' - Natalia Pałka
'Conflict Talk and Aggressive Verbal Interaction in Computer-Mediated Communication: An Analysis of Aggressive Online Interactions in a Mitt Romney Supporters' Facebook Group' - Katarzyna Rogalska
CURRENTS IN LITERATURE:
'Does Time Pass? The Philosophical Underpinnings of Virginia Woolf's Orlando' - Marta Sibierska
'Is Romance Still Romantic? The Sea Lady by Margaret Drabble' - Marta Lupa
'Symptom and Illusion: Pathological Dreamscapes in De Quincey, Coe and Litt' - Monika Włudzik
'"I Am Average Because..." Unreliability and the (Re)Construction of Normalcy' - Tanja Reiffenrath
'Native American Woman Protagonists "on the Journey to Motherhood": A Case Study' - Katarzyna Piotrowska
'The Inevitable Other: Reimagined Futures and Patterns of Colonisation in Sheree R. Thomas's "The Grassdreaming Tree"' - Agnieszka Podruczna
BOOK REVIEWS:
'A Complete Circuit: Essays on American Fiction' - Sława Krasińska
Review of Od Ralpha Ellisona do Jhumpy Lahiri. Szkice o prozie amerykańskiej XX i początku XXI wieku by Marek Paryż
'Feminist Interventions: De-Shaming Poetry' - Nelly Strehlau
Review of De-shamed. Feminist Strategies of Transgression: The Case of Lorna Crozier's Poetry by Zuzanna Szatanik
'Art, Aesthetics and the Posthuman' - Monika Włudzik
Review of Bio-transfiguracje. Sztuka i estetyka posthumanizmu by Monika Bakke
'Between the Image and the Word' - Ewa Bodal
Review of The Visual and the Verbal in Film, Drama, Literature and Biography, edited by Mirosława Buchholtz and Grzegorz Koneczniak
'Towards New Modes of Co-Existing? Partnership Id-Entitie/s' - Ewa Bodal
Review of Partnership Id-Entitie/s. Cultural and Literary Re-Inscription/s of the Feminine, edited by Antonella Riem Natale, Luisa Conti Camaiora, Maria Renata Dolce and Stefano Mercanti
EDITORIAL BOARD:
Edited by: Ewa Bodal, Anna Jaskólska, Nelly Strehlau & Monika Włudzik
Editor-in-Chief: Ewa Bodal
This online version of the journal is a referential version.
All texts licensed under: CC BY-NC-ND 3.0.
www.currents.umk.pl currents.journal.umk@gmail.com
ISSN 2449-8769
Cover & logo designed by: Zuzanna Larysz / 007fff
Typesetting and proofreading: the Editorial Board.
Advisory Board: Prof. Martin Butler (University of Oldenburg)
Prof. Tyler Kessel (Hudson Valley Community College, Troy, NY)
Reviews: dr hab. Edyta Lorek-Jezińska, Nicolaus Copernicus University; dr Katarzyna Marak, Nicolaus Copernicus University; dr Sławomir Wacewicz, Nicolaus Copernicus University; dr hab. Katarzyna Więckowska, Nicolaus Copernicus University; dr Agata Zarzycka, University of Wrocław.
Publisher: Academic Association for Doctoral Students at the Department of English, Nicolaus Copernicus University in Toruń, Poland
Doktoranckie Koło Naukowe Filologii Angielskiej,
Uniwersytet Mikołaja Kopernika w Toruniu
Katedra Filologii Angielskiej,
ul. Bojarskiego 1,
87–100 Toruń, Poland
Currents. A Journal of Young English Philology Thought and Review is registered in the District Court in Toruń under the number PR 364.