CURRENTS. A Journal of Young English Philology Thought and Review
Vol. 6: New trends in English Studies for the 2020
Julia Siepak, Edyta Lorek-Jezińska, Nelly Strehlau, Dorota Watkowska & Bernadetta Jankowska
ISSN 2449-8769
All texts licensed under: CC BY-NC-ND 3.0.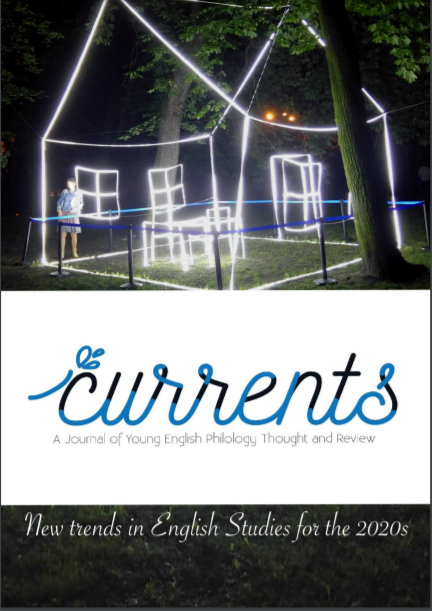 COMPLETE ISSUE - pdf (3.06 MB)
Files with individual articles available below. Please click any title to view the article:
TRENDS IN LINGUISTICS
Accent and trust: a perception experiment with Polish users of English - Aleksandra Ewa Poniewierska
A contrastive study of theme-based instruction and grammar-translation method in teaching English to young learners - Umut Alintas
TRENDS IN LITERARY STUDIES
Victorian popular science and the sensation novel - Robert McParland
The physical revenge of the book: the role of physicality in literature - Riccardo Cipollari
'Be kind to strangers, they are your entanglement': interconnections, trans-corporeality, multiplicity, and hominid ecologies in Anne Waldman's poetry - Katarzyna Stępień
The philosophy behind the addictive sports routines in David Foster Wallace's Infinite Jest - Paweł Oleksak
TRENDS IN CULTURAL STUDIES
Afrosurrealism—a new language for discussing the Black Experience: an exploration of the trend in recent films, TV series and music videos - Dawid Smyk
Representation of trauma and PTSD in the Netflix series BoJack Horseman: the case of Gina Cazador - Agnieszka Staszak
Approaching the sublime in Chernobyl (2019) - Barbara Pawlak
Environmental story-telling—the liminal space between embedded and emergent narrative - Natalia Anna Bracikowska
BOOK REVIEWS
Irish identity and trauma - Bernadetta Jankowska
A review of Trauma and Identity in Contemporary Irish Culture by Melania Terrazas-Gallego (ed.)
CONFERENCE REPORTS
The international emerging scholars conference "Global—Local—Glocal in Anglophone Literature, Culture, and Linguistics" - Julia Siepak
(Im)perfect women in (im)perfect worlds: Dystopias, utopias, and feminism at the beginning of the 21st century - Katarzyna Stępień
STUDENTS' CORNER
An old town tale - Yann Stephan
Polish crime fiction: from Torun with love letters - Julien Geffroy
The stranger god - Kadir Azlak
EDITORIAL BOARD:
Edited by: Julia Siepak, Edyta Lorek-Jezińska, Nelly Strehlau, Dorota Watkowska & Bernadetta Jankowska
Editors-in-Chief: Edyta Lorek-Jezińska with Nelly Strehlau
This online version of the journal is a referential version.
All texts licensed under: CC BY-NC-ND 3.0.
www.currents.umk.pl currents.journal.umk@gmail.com
ISSN 2449-8769
Logo designed by: Zachary Larysz / 007fff
Typesetting and proofreading: the Editorial Board.
Advisory Board: Prof. Martin Butler (Carl von Ossietzky University of Oldenburg)
Prof. Tyler Kessel (Hudson Valley Community College, Troy, NY)
Dr Sigríður Ólafsdóttir (University of Iceland)
Dr Andreia-Irina Suciu ("Vasile Alecsandri" University of Bacău)

Reviews: dr Tymon Adamczewski, Kazimierz Wielki University; dr hab. Paulina Ambroży, prof. UAM, Adam Mickiewicz University; dr Joanna Antoniak, Nicolaus Copernicus University; dr Patrycja Austin, University of Rzeszów; dr Natalia Bartoszek; dr Sylwia Borowska-Szerszun, University of Białystok; prof. Mariaconcetta Costantini, Università degli Studi "G. d'Annunzio" Chieti-Pescara; dr Tomasz Fisiak, University of Łódź; prof. Lisa Hager, University of Wisconsin-Milwaukee; dr Jarosław Hetman, Nicolaus Copernicus University; dr Anna Kisiel, WSB University; dr Michał Kisiel, Tischner European University; dr hab. Michał Kłosiński, prof. UŚ, University of Silesia; dr Aldona Kobus, Nicolaus Copernicus University; dr Grzegorz Koneczniak, Nicolaus Copernicus University; dr Krzysztof Maj, AGH University of Science and Technology; dr Katarzyna Marak, Nicolaus Copernicus University; dr hab. Adam Mazurkiewicz, prof. UŁ, University of Łódź; prof. Nadia Morarasu, "Vasile Alecsandri" University of Bacău; dr Aleksandra Musiał, University of Łódź; dr Alina Resceanu, University of Craiova; dr Marta Sibierska, Nicolaus Copernicus University; dr hab. Katarzyna Więckowska, prof. UMK, Nicolaus Copernicus University.
Publisher: Academic Association for Doctoral Students at the Department of English, Nicolaus Copernicus University in Toruń, Poland
Doktoranckie Koło Naukowe Filologii Angielskiej,
Uniwersytet Mikołaja Kopernika w Toruniu
ul. Bojarskiego 1,
87–100 Toruń, Poland
Currents. A Journal of Young English Philology Thought and Review is registered in the District Court in Toruń under the number PR 364.