CURRENTS. A Journal of Young English Philology Thought and Review
Vol. 7 & 8: Global - Local - Glocal
Joanna Antoniak, Edyta Lorek-Jezińska, Julia Siepak, Nelly Strehlau & Katarzyna Więckowska
ISSN 2449-8769
All texts licensed under: CC BY-NC-ND 3.0.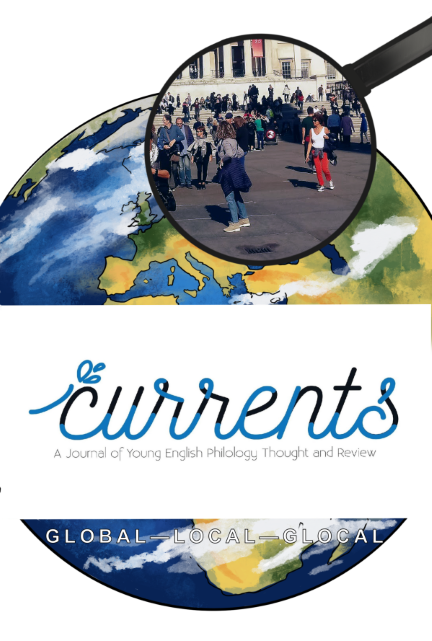 COMPLETE ISSUE - pdf (2.46 MB)
Files with individual articles available below. Please click any title to view the article:
GLOBAL—LOCAL—GLOCAL IN LINGUISTICS
'"Egyptian English" as an emerging glocal language' - Lucia La Causa
'The reality of living in a pandemic world. Analyzing reading preferences and language usage' - Miriam Kobierski
GLOBAL—LOCAL—GLOCAL IN LITERARY STUDIES
'Queering history: alternate timelines and the effects of queer divergence in Connie Wilkins' Time Well Bent' - Magdalena Dziurzyńska
'Corporeal vessels: gods as personifications of American anxieties in Neil Gaiman's American Gods' - Karolina Kordala
'Masculinities in selected stories by Raymond Carver' - Agata Rupińska
'Dialectics of utopia and dystopia in Never Let Me Go by Kazuo Ishiguro' - Paweł Oleksak
'Return to Homeland: search for identity through ecological memory in Romesh Gunesekera's Heaven's Edge' - Ambika Raja
'Engaging story or valuable message? The Anthropocene in Anne Bishop's Others book series' - Katarzyna Szyszka
'"The future's (not) ours to see"—visions of forthcoming humanity in solarpunk - Katarzyna Stępień
GLOBAL—LOCAL—GLOCAL IN CULTURAL STUDIES
'Ruins and weeds: an ecocritical view on Romain Veillon's Green Urbex collection' - Edgar James Ælred Jephcote
'"You can't let yourself be defined by the parts that are broken": immersion, traumatic memory and the representation of PTSD in Tell Me Why - Agnieszka Staszak
'The evolving female narrative in dystopian video games: the case of Bioshock Infinite, The Last of Us, and Horizon' - Dagmara Solska
'"Instagram Face": deconstructing the seemingly utopian and idealized image of women promoted by social media' - Paulina Szczepaniak
BOOK REVIEWS
'Conceptualizing the post-postmodern world' - Kacper Marchlewski
A review of Metamodernism: Historicity, Affect and Depth After Postmodernism by Robin van den Akker, Alison Gibbons and Timotheus Vermeulen (Eds.)
CONFERENCE REPORTS
'Masculinity: theories and practices. An Interdisciplinary conference' - Katarzyna Stepak
EDITORIAL BOARD:
Edited by: Joanna Antoniak, Edyta Lorek-Jezińska, Julia Siepak, Nelly Strehlau & Katarzyna Więckowska
Editors-in-Chief: Edyta Lorek-Jezińska & Nelly Strehlau
This online version of the journal is a referential version.
All texts licensed under: CC BY-NC-ND 3.0.
www.currents.umk.pl currents.journal.umk@gmail.com
ISSN 2449-8769
Logo designed by: Zachary Larysz / 007fff
Typesetting and proofreading: the Editorial Board.
Advisory Board: Prof. Martin Butler (Carl von Ossietzky University of Oldenburg)
Prof. Tyler Kessel (Hudson Valley Community College, Troy, NY)
Dr Sigríður Ólafsdóttir (University of Iceland)
Dr Andreia-Irina Suciu ("Vasile Alecsandri" University of Bacău)
Dr Andrea Roxana Bellot (University of Rovira i Virgili, Tarragona)

Reviews: dr Patrycja Austin, University of Rzeszów; dr Andrea Roxana Bellot, Rovira i Virgili University, Tarragona; dr Tomasz Fisiak, University of Łódź; dr Dorota Guttfeld, Nicolaus Copernicus University; dr Jarosław Hetman, Nicolaus Copernicus University; dr Michał Kisiel, Tischner European University, Kraków; dr Aldona Kobus, Nicolaus Copernicus University; dr Katarzyna Marak, Nicolaus Copernicus University; dr Marek Placiński, Nicolaus Copernicus University; dr Alina Resceanu, University of Craiova; dr Paweł Schreiber, Kazimierz Wielki University, Bydgoszcz; dr Andreia-Irina Suciu, "Vasile Alecsandri" University of Bacău.
Publisher: Academic Association for Doctoral Students at the Department of English, Nicolaus Copernicus University in Toruń, Poland
Doktoranckie Koło Naukowe Filologii Angielskiej,
Uniwersytet Mikołaja Kopernika w Toruniu
ul. Bojarskiego 1,
87–100 Toruń, Poland
Currents. A Journal of Young English Philology Thought and Review is registered in the District Court in Toruń under the number PR 364.